OK, so i've found a direct replacement for the NE5532 audio op amp chips in the summing stage of the busses that really make the whole console sound better and "resolve" much more like we want it to sound. Here's a link to the before and after files so you can hear it for yourself. I've included mastered and unmastered versions of the mix for a better idea of the actual changes you get from this mod. The files with 5532 in the name are the original chips.
http://www.mediafire.com/?6tr4s9uf2t46u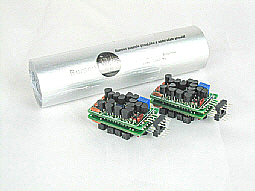 This Mod requires no changes to power supplies and is very easy to perform. I ordered the 8 pin dip package version of the Burson audio Dual op amp. The replacement chips are actually discrete little pc boards (and not chips at all) and use matched  transistors and 1% resistors.
The people at Burson have an amazing product here and have gone way above the call of duty each time i've interacted with them/I'm very impressed by their customer support.
http://bursonaudio.com/DIY_HD_Opamp.htm
For ordering contact Dennis at
info@bursonaudio.com
. Tell Dennis Shawn sends his regards.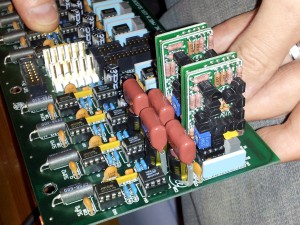 You can literally just pull out the 5532 chips in your Summing cards and plug these into the existing chip socket (noting the little notch out on the chip socket and just putting it in the same way…. Incredibly easy) . Since the sockets are laying vertically however they have a tendency of wanting to let gravity have its way and want to just fall out of the sockets. I didnt like the idea of a socket going into another socket sonically either, So i opted to unsolder and remove the original chip sockets from the summing card and simply solder the (much nicer milled socket) burson Op amps directly onto the pc bord. Problem solved. Whole console sounds better. and we can brag about our discreet modded output of our console.
Incredibly affordable, great sound, super easy to do. Had to share it with you guys. Also note… i doubled the capacitance value of the original caps ( 220 uf to 470uf) and added a very high quality 1 uf poly film cap on top of each cap ( >400 Volts per microsec which is 40 times faster than a fast audio chip!) that allows the highs to pass through a little cleaner. The caps did make an additional difference for the better and was more of a pain in the butt to do then the swapping the chips.
Make sure you have a good solder sucker and a really small tip, temperature controlled soldering iron handy for this job. Or just call a good tech like Gwyen who does if you are uncomfortable with this.
Next project (which Jo is involved with as well) is getting a custom 16 channel passive discreet summing box finished with remote controlled (custom motorized 5 gang pot) parallel master buss. My wallet shivers everytime i think about it LOL.
With love and respect for my S12 brothers!
Shawn